Tern have recently introduced the Quick Haul compact cargo bike into Australia. Squint and you might think it's identical to Tern's other compact cargo bike, the HSD, but on closer inspection, the Quick Haul has a few notable differences. The biggest of these is the lower price ($4,995, compared to $5,895 for the HSD P9), which makes it more accessible to raiders who want a compact cargo bike, but are happy to forgo some of the premium features found on the HSD. That being said, we think the Quick Haul is an excellent ride, and are pleased to see Tern try making their high-quality e-bikes available to more people.
Spot the difference: Tern Quick Haul P9 (top) and HSD P9 (bottom)
Overall, both bikes have a few major similarities:
Reliable Bosch e-bike system
20-inch wheels and a low frame top-tube (for a low centre-of-gravity and easy rider mounting and dismounting)
Shimano hydraulic disc brakes (strong and responsive)
Shimno Alivio 9-speed gear system (chain, derailleur and trigger shifter)
Schwalbe Big Apple tyres (puncture resistant)
Heavy-duty rear rack (50 or 60 kg weight capacity) that can carry a child, as well as the option of a front cargo rack (20 kg weight capacity)
Commuter-friendly accessories as standard, including mudguards, front and rear lights, side kickstand (centre kickstand upgrade available)
Compatible with the same huge range of Tern accessories, including racks, bags and passenger seats.
The table below outlines some of the main differences between the Quick Haul P9 (the model available in Australia) and the HSD P9 (both the Active Line and Performance Line motor models available).
Feature/Component

Quick Haul P9

HSD P9
(Active Line Plus or Performance Line)

Price ($AUD)

$4,995

$5,895 (Active Line Plus) or $6,345 (Performance Line)

Colours available

Red (Tabasco) or blue/grey

Red, blue or green/grey (Rhino)

Motor

Bosch Performance Line (up to 300% pedal assist and 65 Nm torque)

Bosch Active Line Plus (up to 270% pedal assist and 50 Nm torque) or Performance Line

Battery

Bosch 400 Wh PowerPack

Bosch 400 Wh PowerPack (Active Line Plus) or 500 Wh PowerPack (Performance Line)

Range (reported by Tern)

53 - 105 km

42 -110 km (400 Wh - lower due to greater bike weight than Quick Haul) or 51-118 km (500 Wh)

Bike weight

22.9 kg

25.7 kg

Total weight rating (rider + passenger + cargo)

150 kg

170 kg

Rider height
150 - 195 cm

150 - 195 cm

Riding position
Slightly forward leaning, like a hybrid commuter bike

Upright

Rear rack carrying capacity

50 kg

60 kg

Folding capability
No
Yes - Handlebar post folds down for transport in a car

Forks

Rigid

Suspension

Stem and handlebars

Up-down adjustable Speedligter Stem (like a seat post) for switching between riders

Folding handlebar post (for storage and car transport), as well as up-down and backward-forward handlebar adjustment (Andros Stem

Seatpost

Standard adjustable seatpost

Telescopic seatpost for quicker adjustment between two riders

Wheels

Various components

Tern Atlas heavy-duty cargo wheels

Front lights

120 lumens, front mudguard mounted

190 lumens, handlebar mounted

Rear wheel lock
No

Yes - Abus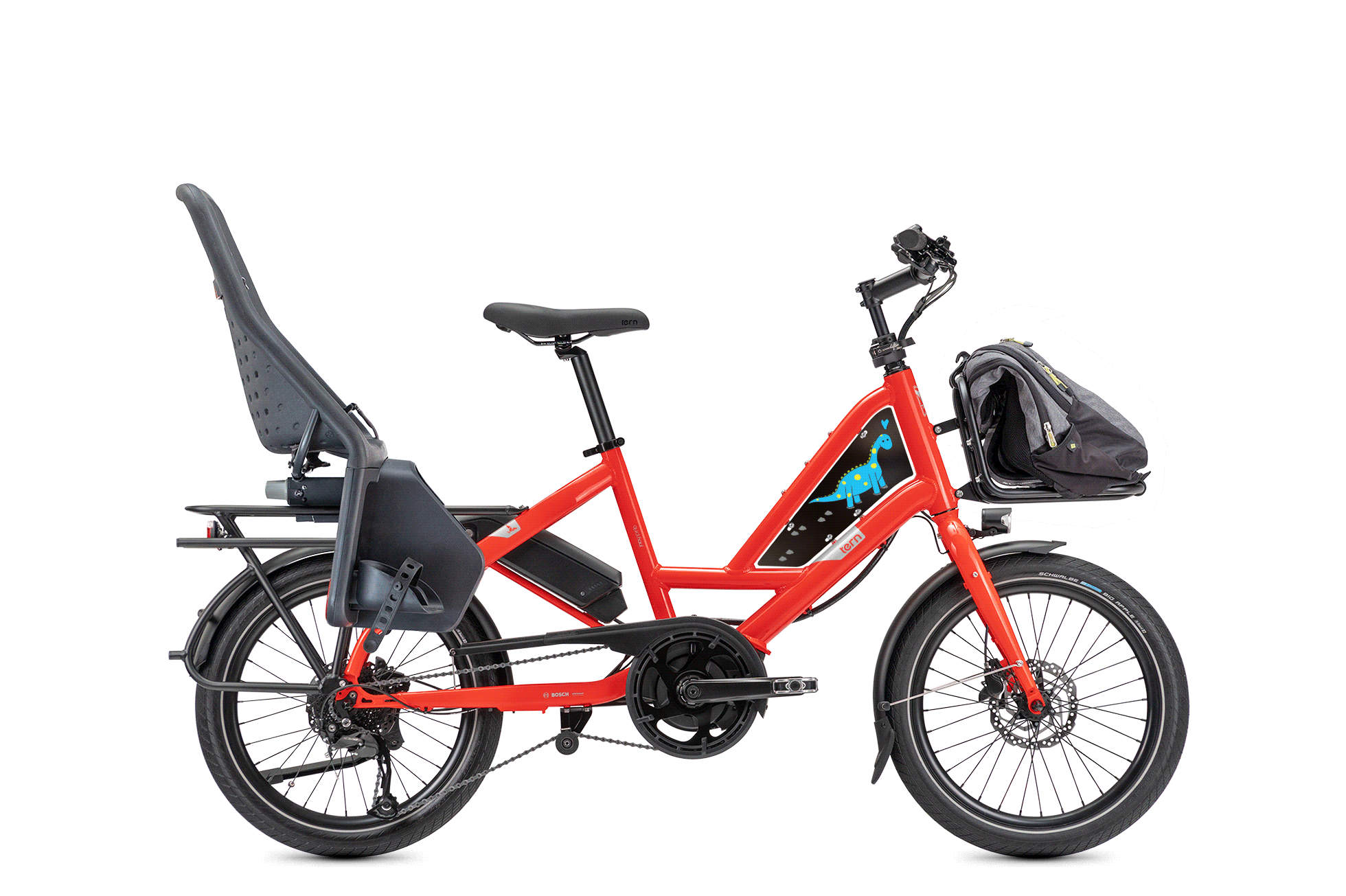 The Quick Haul is compatible with several passenger and cargo accessories
Tern also makes the Quick Haul D8, but this is not yet available in Australia (e-bikes imported into Australia require different motor settings to comply with local speed regulations, and this has only been implemented for the P9 model). By comparison, the D8 has an 8-speed Shimano gear system (as opposed to 9-speed) and a Bosch Active Line Plus Motor (as opposed to the Performance Line on the P9). If introduced to Australia, the D8 is likely to be even lower priced than the P9.
See the Tern Quick Haul in action
Finally, Tern also make the HSD S+ (not covered in detail here), which is Tern's premium compact cargo bike, including Bosch Performance Line motor and 500 Wh battery (for powerful, long-range riding), Intuvia display (for more riding information), Enviolo automatic electronic gear shifting, Gates Carbon belt drive (low maintenance), as well as a comfortable Cane Creek Thudbuster suspension seatpost.
Tern HSD S+
Overall, both the Quick Haul and HSD are well-built compact cargo bikes with award-winning Tern design features. If you want a premium version with more "bells and whistles" and slightly greater carrying capacity, then the HSD is your best choice. If you are happy without these features (but still very good components) and don't need the greater carrying capacity, then the Quick Haul is well-suited.